Discover more from The David Charles Newsletter
Every Friday, I'll send you one original 800-3000 word story to help you make a little more sense of the world. Welcome!
Scheming and Dreaming
Who's up for Thighs of Steel 2020?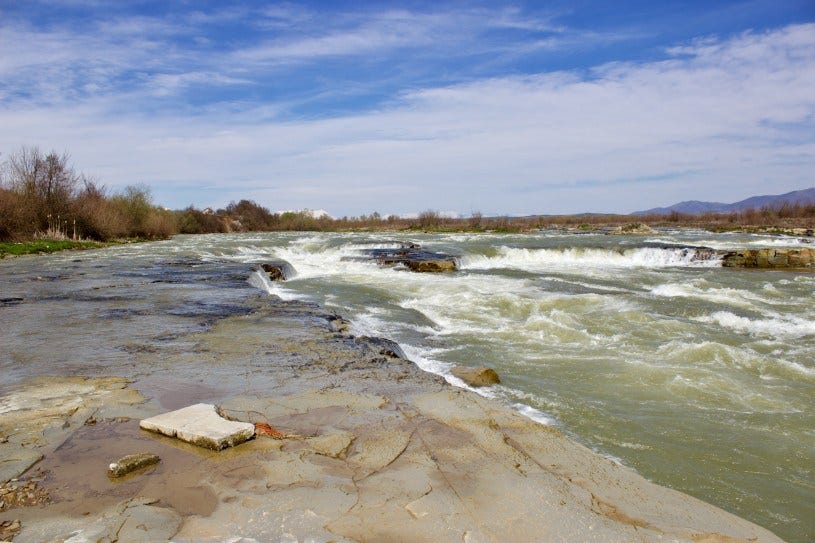 The Drin River (Photo: Val Ismaili)
Happy Friday!
Welcome to all the new subscribers - and thank you to everyone for sharing the newsletter. If you find something here you like, please pass it on. :)
~
The big news this week is that the Thighs of Steel London to Athens mega-ride will definitely be happening again in 2020.
At the moment, we're looking at 10-week routes of about 6,500km. This is my mad-cap Eastern Adventure proposal, taking in 19 or 20 countries, including, for the first time on Thighs of Steel, Liechtenstein, Poland, Slovakia, Ukraine, Serbia and Turkey.
I have no idea if it's logistically possible, but it's fun to dream…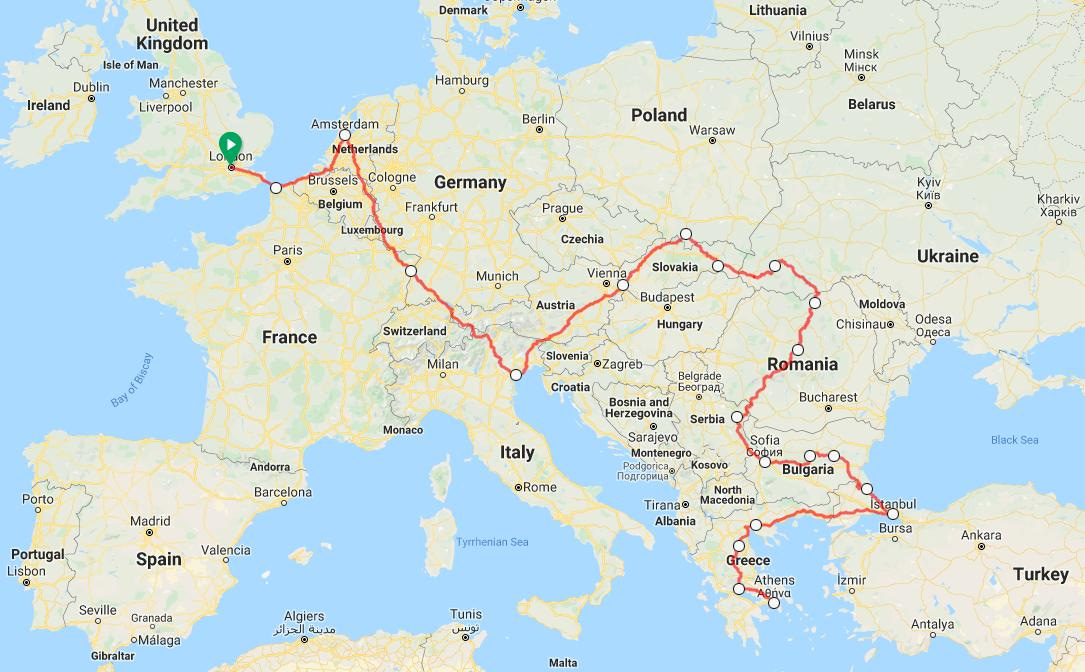 If you'd like to submit a route for consideration, hit reply and email me a simple map like this one. Thighs of Steel cyclists love wild adventure, epic mountains and fatty carbs. What's your dream European cycle?
~
For the past two years, I've supported The Next Challenge Grant, a wonderfully simple idea to crowdsource donations so that impecunious adventure-newbies can take on the kind of challenges that I've been so lucky to enjoy over the years.
Applications are now open for 2020 and this blog post runs through some of the 60 expeditions that have been funded since the grant was set up in 2015 by explorer Tim Moss.
I think my favourite of these trips was a 200 mile kayaking descent of the Drin River, through Kosovo and Albania. It sounded like the perfect combination of spontaneity, foolhardiness, adventure and joy. Oh, and nappies -
At times in our journey, we'd be paddling in tandem with a floating sofa or be unavoidably slapped across the face by a nappy hanging off the branch of a tree.
---
My Reading: Summer/Autumn Edition
This week I came across an excellent long read written by Craig Mod and bearing the superb title, Stab a Book, the Book Won't Die: On the resilience of books in the face of apps, attention monsters, and an ad-driven online economy.
In this entertainingly comprehensive examination of why books still exist, Craig quotes Philip Roth, speaking in 2009:
To read a novel requires a certain amount of concentration, focus, devotion to the reading. If you read a novel in more than two weeks you don't read the novel really.
As someone currently pootling through Jane Eyre, this struck a chord with me. Two weeks? I'm currently on Week 5 and I still have fifty pages to go.
I do see what he means, though. The faster you read a book, the more 'into it' you become, and the more, perhaps, you get out of it. Certainly, a little more speed might make it easier for me to recall beside which hearth poor Jane is once again warming her ice-crusted fingers…
Reading 20-30 pages a day would be enough to get through most books in a fortnight. That seems doable - surely I could find 25 to 35 minutes for reading in a day?
In 2019 so far, I have finished eight novels at an average reading speed of 18 days per book. Six of them I finished inside Roth's two week deadline, but three (if we also include Miss Eyre) took me more than five weeks each.
Dear reader, you are my witness to a solemn vow: I shall add to my evening bedtime reading a morning session. What better way to start the day than with ten pages of invigorating fiction?
The Pick of My Summer/Autumn Reading
A Passage to India (1924, fiction) by EM Forster. A splendid novel that dances wittily around the social politics of British rule in India, before exploding in your face. A Passage to India frequently makes 'all-time best novel' lists and I can make no accusation of false advertising.

Bitter Lemons (1957, non-fiction) by Lawrence Durrell. An autobiographical account of the three years (1953-1956) Durrell spent on Cyprus, as British rule disintegrated. A wise companion for any journey east; alternatively, ideal for those seeking literary sunshine during our dull northern winter.
My Current Autumn/Winter Reading…
Jane Eyre (1847, fiction) by Charlotte Brontë.

Underlands (2019, non-fiction) by Robert MacFarlane - a gift, thanks T.

Neurotransmissions: Essays on Psychedelics from Breaking Convention (2015, non-fiction) - also a gift, thanks B.
What have you been reading - anything good? Share with us!
---
Our neck of the woods?
I'll mostly be stationed in Bournemouth over the next couple of weeks. But I'll see some of you at the next Thighs of Steel Club Ride on 24 November. The route is being finalised as we speak, but we'll be leaving from a cafe in London and cycling around and about for 50km or so.
The ride is totally non-competitive and will finish in a pub, so forget your fear of Lycra and join the Whatsapp Group (Population: 60+) or check the ride page on Facebook for details of this and future rides.
The date is also set for our mass ascent of the highest peak in Flevoland (altitude: 7 or 8 metres): 30 November 2019. If you'd like to join us, let me know, or just show up randomly.
Regrettably, this trip clashes with the Woodland Trust's Big Climate Fightback, during which a million people will plant trees across the UK. If you find yourself not at the summit of Flevoland, why not join (or start) a tree-planting event and plant a being that might outlive you by a couple of centuries? Awesome.
Whosoever plants a tree
Winks at immortality.
Felix Dennis
Much love,
dc:
CREDITS
David Charles wrote this newsletter. David is co-writer of hit BBC Radio Wales sitcom Foiled, and also writes for The Bike Project, Forests News, Global Landscape Forum, Elevate and Thighs of Steel. Reply to this email, or read more at davidcharles.info. Thank you for subscribing!