'Here is nothing special'
Snippets from Samos
Happy Friday!
First of all, a warm welcome to all the new subscribers. A few of you have joined in the last couple of weeks since the switch to Substack. This humble newsletter now goes out to 207 intelligent and discerning humans. I hope you stick around :) There's always the archive if you want to catch up.
Now, on with the show…
'Here is nothing special': Snippets from Samos
Two weeks is a long time on such a fevered island as Samos. The sights, sounds and stories could each fill a book, I'm sure, but I'll have to content myself with reporting these snippets that I don't have time to do justice to.
~
After I left Samos, a friend sent me a short text message concerning the distribution of open cards that saw 700 people transferred to the mainland. 'Did you know that during the big transfer they actually broke up families?' she asked me, rhetorically. 'Half the family would be on the list and have five minutes to pack. If the dad was on the list and he wasn't there, they just left him.'
~
I met a young man - let's call him Aarash - a 17 year-old from Afghanistan who grew up in Iran. He came to Samos alone and was excited to show me the 'house' that he had just finished building with the help of resourceful friends made at the camp. It was a wood-frame shelter stapled with tarpaulins.
Minors aren't given any money to survive, so rely on kindness and solidarity. He was given a sleeping bag by an NGO and a mattress by the camp. Older refugees who'd taken care of him used some of their money to buy tarpaulins and wood.
Four people will sleep on that mattress, but it's a significant upgrade from the flimsy tent they had been living in for the past few weeks.
Aarash goes to an NGO-run school in the town and learns English, Greek and German. They feed him breakfast and lunch, so he doesn't need to rely too much on the revolting food handed out at the end of a long queue by the camp authorities.
~
There is one doctor for 6000 refugees on Samos – medical, not psychological. Not everyone has flesh wounds; most of the scarring is on the inside.
~
One founder of an NGO on Samos told me that, while grassroots organisations like his 'want to go out of business', the big, transnational NGOs are already planning their budget for 2021 – 'they need to stay in business', he says with disgust.
~
I met a 27 year-old man whose 'Greek age' is 17. It's a calculated gamble on his part: if at his interview they accept that he is indeed only 17, then he is will be classified as an unaccompanied minor and put on the priority list for transfer to Athens.
Without giving away too many details, this man's home country is in Africa; he stands little chance of getting refugee status if the authorities discover his real age.
In the meantime, however, as a 17 year-old, this man does not get the financial support that older asylum-seekers receive; he lives by volunteering for the Samos NGOs and gets food in return. He has chosen short-term penury in the hope of longer-term advantage.
He looks 27.
~
'Here is nothing special' - the words of an Ethiopian woman, looking around at the disgusting camp and reflecting on why she bothered coming to Europe.
---
The Oldest Warzone
The two most shocking stories I heard while travelling came as a pair, one from each side of the Aegean border.
The first I heard from a Turkish volunteer in Izmir. This was her friend's story and she prefaced the whole by saying that she was only repeating the otherwise unbelievable – and barbaric – tale because she trusts her friend absolutely.
The two friends volunteer for a small organisation in Izmir that tries to help refugees integrate into Turkish society. It started as a place where refugees and locals could come together to cook and eat a meal. Now they also distribute warm clothes during winter and help refugees navigate Turkish bureaucracy. Just last week, for example, the volunteers helped a Syrian boy enrol in a local schools, something that his parents couldn't have done alone.
Recently, the friend accompanied a pregnant Syrian woman when she went to hospital to give birth. The birth was a success, but afterwards she was presented with a piece of paper to sign. The new mother couldn't read the paper written in Turkish, of course, but she was pressured to sign anyway.
It was a medical consent form for the surgeons to strip her ovaries and render her infertile.
After repeating this story, and repeating her incredulity that it could possibly be true, my Turkish friend averred that the hospital's reported behaviour was totally unethical. But she also said that it was understandable, from both a financial and moral stand point.
Turkey isn't a rich country and childbirth costs a lot of money that the government cannot recoup from penniless refugees. But my friend also told me that many refugees in Izmir live on the streets, or in hotels and apartments that are barely inhabitable. There is little enough money to feed themselves, let alone extra mouths. It's irresponsible to have kids in this situation, my friend cried. It is not right.
It was my time to repeat a story I'd heard a few days before in Samos. There might be other reasons that a refugee needs pregnancy and childbirth.
Two months pregnant and travelling alone, a Syrian woman arrived on Samos and was taken to the hospital for a check up. At the hospital, it was discovered that this woman had been raped during her journey to Europe. The doctor told her that, because of the rape, she was entitled to have an abortion.
The woman refused. Thanks to her pregnancy, she explained, she would be placed on the 'vulnerable persons' list and given priority for transfer away from Samos to the mainland. No one wants to stay for long in the filth of Samos. Pregnancy is the closest a human being here can get to a free ticket out of the camp.
These rules are made with the noblest of intentions, I'm sure, but their side effects are barbaric.
As a topper to this story, I was told a third by an Ethiopian woman in the Samos camp. She had a friend who had been transferred to Athens because she was pregnant. Tragically, after she arrived in Athens, she had a miscarriage. With no baby, the authorities tried to transfer her back to Samos.
I should say that these stories are uncorroborated, but they raised little more than an eyebrow when retold to local volunteers who have heard too many, too similar.
Women's bodies are history's oldest warzone: a millennia-old war fought between state and self over who has the right to new life - in all senses.
---
Open Borders: The Book
As promised, I'm in the process of collecting five years' worth of writing on open borders, refugees and migration into a book.
Profits will go to the grassroots refugee support organisations I have visited across Europe and I'm aiming for publication in Spring 2020.
If you can help me in any way with the illustration, publication or promotion of the book, then please get in touch - I desperately need help and advice!
Thanks :)
---
Foiled: The Final Episode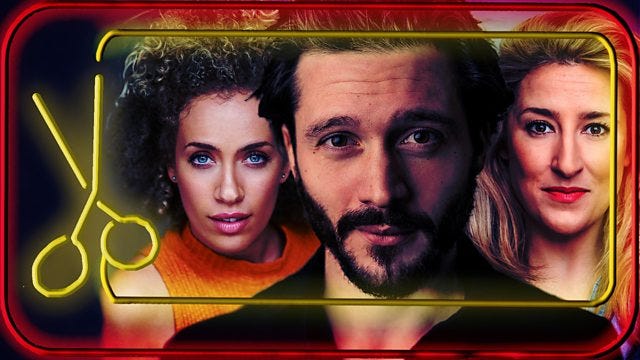 You have only one day left to listen to the final episode of Foiled - featuring Miles Jupp and a huge end-of-series cliff-hanger.
On Monday, Beth and the producers are pitching for a fourth series - is this the end of Bleach for the Stars!?
---
Our neck of the woods?
I actually wrote this week's edition on Tuesday, so hopefully nothing has happened in the world that now makes this look really weird. Like, 'Dave's being surprisingly casual about this nuclear warhead in the Thames thing.'
If all has gone well, I'm sitting with friends in front of a roaring fire in a tiny cottage in a tiny village near the Brecon Beacons, planning next years Thighs of Steel London to Athens adventure.
On Monday, I'll be at a secret location in Wales, helping film an episode of The Tim Traveller's legendarily obscure travel show. Then I've got a couple of days in Bristol before heading back to London to catch Beth Granville and Garnon Davies's gut-bustingly funny sketch duo at Backyard Comedy's Comedy Hump (tickets free). If I'm in your neck of the woods, come and say hi!
Much love,
dc:
p.s. If someone you know enjoys reading things like this newsletter, please click this button and share it with them. I can't describe the buzz I get out of welcoming new readers :)
CREDITS
David Charles wrote this newsletter. David is co-writer of hit BBC Radio Wales sitcom Foiled, and also writes for The Bike Project, Forests News, Global Landscape Forum, Elevate and Thighs of Steel. Reply to this email, or read more at davidcharles.info. Thank you for subscribing!