Early bird for Thighs!
Plus: The Bins on Brownsea
Happy Friday!
We have a route for Thighs of Steel 2020 - and it's even more ridiculous than we could ever have hoped.
If you want early bird access to signups for the world's longest charity relay bike ride, then go on and subscribe to our semi-secret mailing list here.
By joining this special only-for-you-guys mailing list, you'll get access to signups on Monday 24 February - a whole five days before the rest of the planet.
If you need more juicy details, then read on…
If you're repelled by the idea of cycling really far for a good reason, then skip over this - there's a nice bit about birds and bins afterwards.
---
WEEK 1 (5-11 JUL): LONDON TO AMSTERDAM
AKA THE CYCLING UTOPIA ONE
More challenging than past Week Ones in terms of distance, this ride is perfect for cycling utopians who dream of dedicated bike lanes and all-you-can-eat pancakes. Plus you can hop on the Eurostar back home - logistically simple and environmentally sound. Winning.
WEEK 2 (11-18 JUL): AMSTERDAM TO STUTTGART
AKA THE FIVE COUNTRIES ONE
Spin your way through the Netherlands, Belgium, Luxembourg, France and Germany, including one beast of a day that will smash the 200km barrier. Expect Disney-like forests, rolling hills and cooling lakes as we swoon through the green heart of Western Europe.
WEEK 3 (18-25 JUL): STUTTGART TO LJUBLJANA
AKA THE FREAKIN ALPS ONE
Ah, yes - you beauty! This is an all-time classic Thighs route so expect nothing less than the highest tarmacked mountain climb in Austria, ecstatic views worthy of their own symphony and enough ice cream to take out the Death Star.
WEEK 4 (25 JUL-1 AUG): LJUBLJANA TO BRATISLAVA
AKA THE BACK OVER THE FREAKIN ALPS ONE
This is where things get crazy, as we take a left turn north from Slovenia, back over the glorious Alps, and into Austria and Slovakia. Cycling through three countries that are basically one big forest national park, prepare to be blown away by beauty. And pumpkin seeds.
WEEK 5 (8-14 AUG): BRATISLAVA TO KRAKOW
AKA THE WITCH'S MOUNTAIN ONE
Bookended by two of Europe's most famous city break cities, this week's three mountain ranges - including Babia Góra, the Witch's Mountain - are crammed into five days' cycling. Expect luscious national parks, bears, wolves and lynx, and views cut straight from Tolkein.
WEEK 6 (14-22 AUG): KRAKOW TO CLUJ
AKA THE УКРАЇНА ONE
Ukraine?! Hell yeah. If it's adventure you're after, then look no further. This absolute monster of a week follows the dizzying Carpathian mountains all the way from Poland to Romania, via the exotic question mark that is Ukraine.
WEEK 7 (22-29 AUG): CLUJ TO SOFIA
AKA THE FREAKIN TRANSYLVANIAN ALPS ONE
This is our second biggest climbing week, offering the kings and queens of the mountains not one, not two, but three ranges to cross. Get good at Romanian, Bulgarian or charades, and expect road surfaces as unpredictable as the snacks we'll eat.
WEEK 8 (30 AUG-5 SEP): SOFIA TO THESSALONIKI
AKA THE RILA AND RHODOPE ONE
Jammed into just five days of cycling, this week gives us Europe's most ancient forests in Bulgaria, plus the glorious mountains of Rila and Rhodope and untamed beauty of historic Thrace. That means buckets of adventure. We really mean it. There might be bears.
WEEK 9 (5-12 SEP): THESSALONIKI TO ATHENS
AKA THE GLORY RUN ONE
This is the glory run and what a glorious run it will be! Mount Olympus on the horizon and the mythical island of Evia underfoot, expect to sleep on beaches and climb mountains. Plus that first glimpse of Athens after 6,000km of Steely adventure. Chapeau!
How to Play Thighs of Steel
If you don't know how the world's longest (and bestest) charity relay bike ride works, then here's a quick and dirty guide on How to Play Thighs of Steel:
Don't worry - you're not cycling the whole thing, this is a relay. Pick one week that fills you with butterflies of excitement rather than dread. There's something on this route for cyclists of all abilities and we are totally non-competitive. Historically, more than half of our cyclists have been women - I only mention that because cycle touring has a shit reputation of being lonely, miserable and macho. It'll be challenging, but you'll never be alone and, with smiles, songs and snacks, everyone helps everyone through. Most people only do one week of the relay - some crazies do two.

Do logistics. Book your time off work and your transport to and from the start and finish cities.

Train like heck. We have training rides every month in London and there are now over 200 current and former Thighs cyclists you can meet up with for beers and bikes. (In reality, you'll probably only train a bit and then panic unduly. It'll be fine. We all do this.)

Fundraise like heck. All the money goes to grassroots refugee organisations and we suggest you aim for a minimum of £500. We're always on hand for fundraising advice. Putting on a party or a dinner is always a winner, but don't forget the simple stuff like charity pots in your local cafes and pubs. Over the past four years, Thighs cyclists have raised over £320,000 for projects that are making a real difference to the lives of refugees in the UK and Greece.

Cycle a really long way. Wahay! Adventure and the unknown is our standard operating procedure as we wild ride, wild camp and wild swim our way across the continent. People focus on the cycling, but what makes Thighs special is the people. Nothing bonds a campful of strangers like climbing a mountain in 40 degree heat, or getting sprayed down by a farmer with a power hose, or handing out a pannier full of figs picked straight from the tree, or mending a puncture in a thunderstorm, or just sitting by a lake at the end of a long day and watching the sun set in silence.

Come home with a suntan, steely thighs and stuffed full of stories to share. It won't be the end unless you want it to be. Repeat with friends in 2021?
Signups open for real on Sunday 1 March, but you can get early bird access on Monday 24 February by joining a special mailing list. This is good because places go fast and no one wants to miss out!
Any questions? Just reply to this email and I'll help you out.
---
The Bins on Brownsea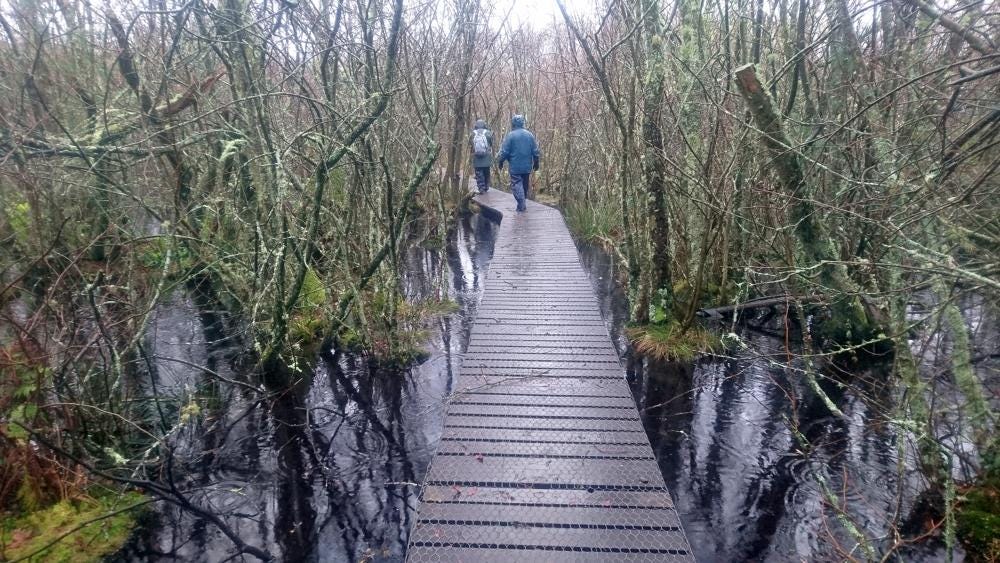 'Have you got decent bins?' I'm asked by a man wearing a cagoule.
Well, isn't that an intrusive question! And I'm about to muster indignant excuses for forgetting to take the recycling out when the man waggles a pair of binoculars and adds: 'They really help you get up close.'
I'm on a boat in the middle of Poole Harbour, in the squalling rain and the huffing wind of a gale blowing in. The boat has a full cargo of people in cagoules with decent bins, here for an RSPB bird tour of Brownsea Island.
I think it's fair to say that I'm not a birder. And yet here I am – and next week I'll be cycling around the RSPB nature reserve at Rainham Marshes. Maybe you don't choose birding; maybe birding chooses you.
'Great Northern Diver at eleven o'clock – no he's dived. Shag at one o'clock. Spoonbill on the beach. Merganser pair just taking off – three o'clock.'
A running commentary sends us birders lurching from one side of the wind-lashed deck to the other, hunting through our misty bins for flecks of white on the storm-grey sea.
For the hobbying birder, this trip is all about spotting new species. When the commentator announces a Slovenian Grebe at four o'clock, there is quite the commotion, let me tell you.
I stare blindly over the hunched shoulders of twitching bin-bearers. I'm as astonished as anyone: Slovenia is all but land-locked – I wouldn't have thought it'd be known for its sea birds.
Slavonian Grebe. Slavonian. They can swallow fish whole and eat their own feathers. And they're so rare that they're on something ominously called the Red List.
Despite frantic Wikipedia research and my rapid identification of a Swan at eleven o'clock, I think it's fair to say that I'm still not a birder.
My favourites are the bobbers: those birds who bob on the tide, waiting patiently until I catch them in the rings of my borrowed bins before beating their wings against the spray or pulling a dive into the choppy waves.
Other than that, I still rank my birds by the romanticism of their names. Avocet. Little Stint. Black-tailed Godwit.
And, of course, the Wigeon. 'Isn't that just a wet pigeon?' I ask a friend, also not a birder. 'I thought Wigeon was a Pokémon character,' she says.
After two hours of chasing feathers, we dock at the John Lewis castle and make our way onto the island.
Brownsea Island has been a National Trust nature reserve since the sixties, after the people of Poole somehow raised £100,000 to save their island from Billy Butlin, he of holiday camp notoriety.
But the only reason there was ever any question of Brownsea becoming a nature reserve was thanks to the whim of a monied misanthropist.
Mary Bonham-Christie bought the island in 1927 and immediately ordered the mass eviction of the 200 people who lived there, then banned the Boy Scouts from their historic campsite and finally hired goons to eject any meddling intruders.
By the time she shuffled off this mortal coil (the ultimate act of any self-respecting misanthrope), only she and her boatman lived on the island. It's fair to say that Bonham-Christie was not a people person.
But her loathing for the human race did open up a hitherto overcrowded corner of the ecosystem for other wildlife. Red squirrels most famously, but also other cute animals including voles and sika deer (the pretty ones with spots).
This imposed haven from humanity made the island an appealing acquisition for the National Trust who completed the purchase in 1962 with help from the Dorset Wildlife Trust, the Scout and Guide Movements and John Lewis (whose staff holiday in the castle). Now goon-free, Brownsea Island has been open to the public for nearly sixty years.
Birders in particular are drawn to Brownsea thanks to the work of another, shall we say 'energetic', aristocrat, Colonel William Petrie Waugh.
When he bought the island, Waugh saw an opportunity in the shallow water to expand his territory. With a bulk order of over a million bricks, he and his lackeys built a wall in the middle of the sea, enclosing a vast paddling pool from which wind-powered pumps extracted the water. Hey presto – pasture for grazing cattle.
But you can't keep the sea out forever, not without constant investment (see also: the Netherlands), and gradually the sea wall started leaking. As the salt water joined forces with freshwater leaking from inland, an enormous lagoon was created.
Cue cheers of delight from a multitude of invertebrates – and the sea birds who prey on them: the Shoveler and Teal and Turnstone and Dunlin that us birders had all come to inspect through our rain-splattered bins.
One morning wasn't nearly enough, but it was a glimpse, a respite in a day battered by storms. We can, if we allow ourselves, be bewitched by nature. I returned to the fraying town doused and refreshed, content.
---
Your neck of the woods?
I'm up to London on Sunday for two shows at the Chortle Comedy Book Festival - Mark Thomas' 50 Things About Us and Adam Kay's Twas the Nightshift Before Christmas. I think there are still tickets available, so you really might as bloody well.
After that, I'm away to Bristol for three weeks of skittles and cider. Should be fun.
Give yourself a pat on the back if you read down this far - that was a long one. Thank you!
Much love,
dc:
CREDITS
David Charles wrote this newsletter. He publishes another newsletter about reading called Books Make Books. David is co-writer of BBC Radio Wales sitcom Foiled, and writes for The Bike Project, Forests News, Global Landscape Forum, Elevate and Thighs of Steel. He also edits books about adventure, activism and more. Reply to this email, or delve into the archive on davidcharles.info. Thank you for subscribing!