She left me a letter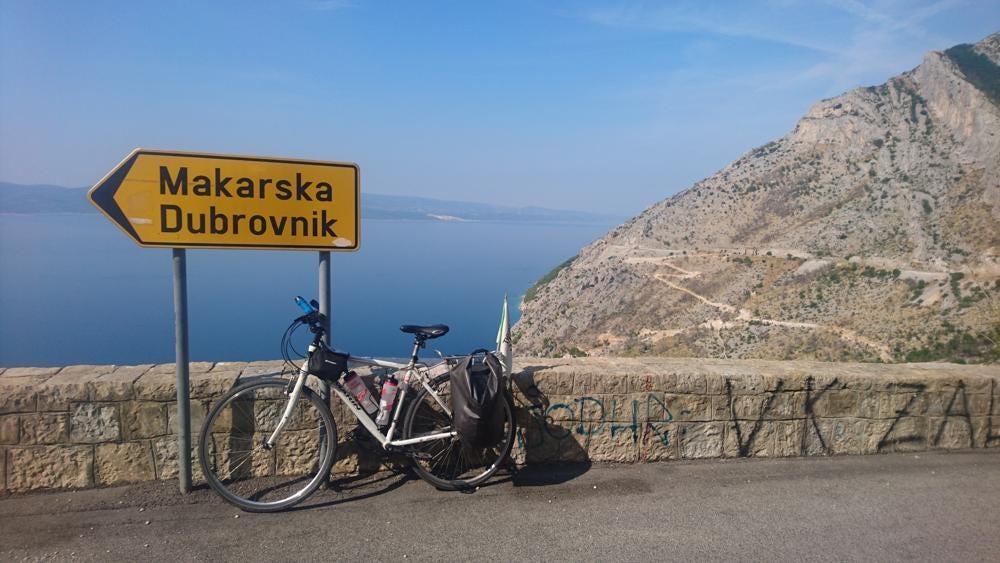 Happy Friday! Saturday!

I hope you're enjoying the Saturday feeling of this email - Fridays on Thighs of Steel are too busy to find much time to write.

Mind you, Saturdays are scarcely any more leisurely - I've just spent the last 4 hours fixing bikes - but typing is at least possible when you're not pedalling or holding a steering wheel.

So here we are - Dubrovnik.

Almost improbably, every single cyclist survived the 780km of roads and the Everest of mountain climbing this week. Trieste feels very far away when you've touched every inch of melting asphalt.

Astonishingly, we've raised over £60,000 for Help Refugees.

I spent three days this week driving the van, navigating around the back lanes of Trieste and Dubrovnik, crossing four borders, flying down the Adriatic coastal road, picking up hitchhikers, tracking down propane on a Sunday, hunting for wild camping spots in resort towns, miming the Croatian for 'recycling', and generally trying desperately to hold it all together so that the cyclists had somewhere safe to sleep and something enormous to eat.

The other three days were easy: a mere matter of cycling 130km in 34 degree heat. Sea swim stops, dobre-dans with the locals, waiters in roadside cafes, burek pastries enough to keep us going and going and going until it's time to put down our bikes and put up our tents.

Today we said sudden goodbyes to the Week 7 crew and in half an hour we sit down to eat with Week 8. Thighs of Steel is a fierce bonding experience and already I can feel the enthusiasm of the new cyclists bubbling over.

This morning the Core Team shared one minute's silence. The quietest it's been all week. We ride again tomorrow!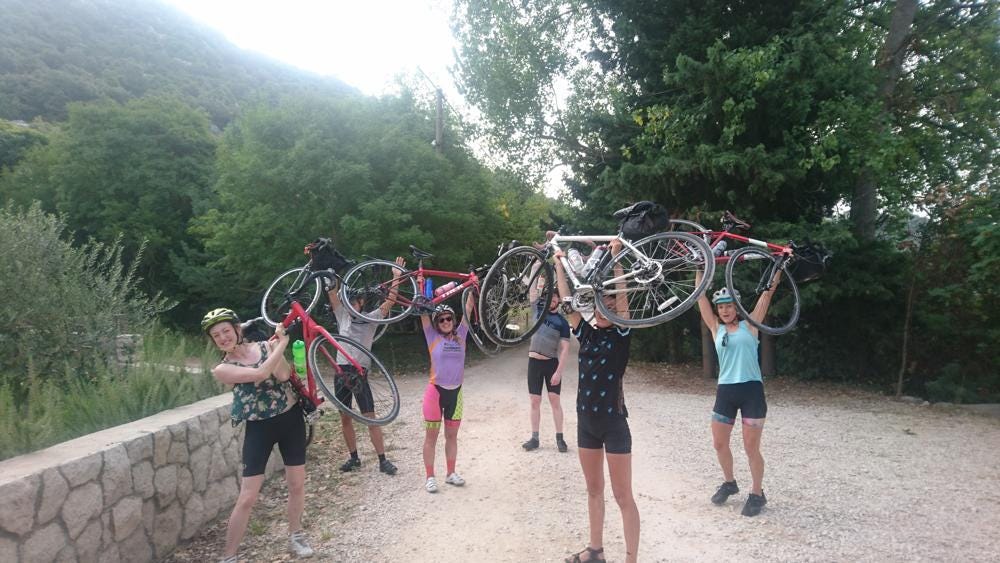 If you like this sort of thing, then you'll probably also like my back catalogue of over 500 posts, all found at davidcharles.info.
Finally, reader, I have an update. Remember a couple of weeks ago, I wrote a piece about leaving love letters?

Well, I have news.

The night before I left the UK on my voyage across the continent, I messaged Sylia to tell her that I was passing through Paris again. She didn't reply and, with the madness of Thighs of Steel, I forgot all about it.

Until yesterday, when I got this message, only 11 days late:

Paris! I left you a note!

Missed 11 days after I was in the city. Gutted.

But when I was in Paris, I'd had a feeling. I arrived late at night, around 9pm, and my hostel was a 45 minute walk to Notre Dame. An hour and a half return trip, I was tired, and had an early start.

I had to go there, to see if there was a letter. I had to.

So I walked 45 minutes along the Seine to our letter crossing cache, a crack in the river bank masonry. On the off chance.

What did I find? Police. Police is what I found. There was a concert at Notre Dame and the whole area was closed off.

At the time, I thought it was a shame, but I hadn't heard from Sylia so in a way I was pleased - I would never know how she'd felt on reading my letter. We could leave the love hanging in the light Parisian air.

Until yesterday's message.

At least now I know where I must take my return route. Stay tuned...

Much love, - dc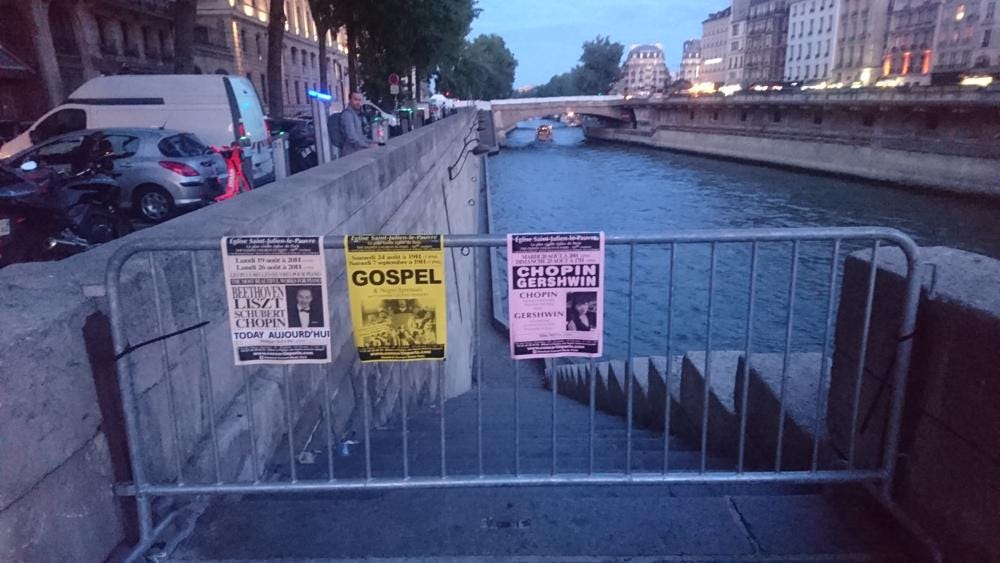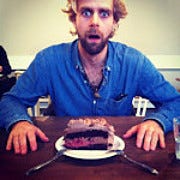 CREDITS

David Charles wrote this newsletter. David is co-writer of BBC Radio sitcom Foiled, and also writes for The Bike Project, Forests News, Elevate and Thighs of Steel. Reply to this email, or read more at davidcharles.info.